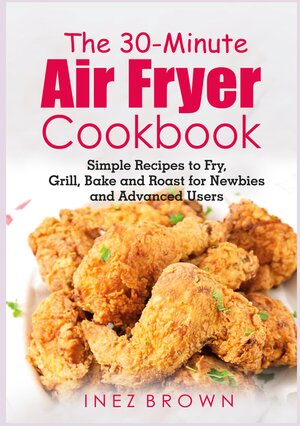 ×
The 30-Minute Air Fryer Cookbook
Simple Recipes to Fry, Grill, Bake and Roast for Newbies and Advanced Users
von
Inez Brown
An air fryer shares similarity to a convection oven . Both cook food using hot air. But unlike an oven, an air fryer doesn't require the use of oil. The food gets its crispiness from contact with super-heated air and the natural sugar content of the food.
Air fryers use infrared or halogen bulbs as a heat source. The bulbs are placed in a chamber above the food. There's also a fan to circulate the air and push it out towards your food. This creates convection, similar to an oven, which helps food cook evenly.
Air fryers offer many advantages when compared to other cooking methods:
Food cooks up to 40% faster than an oven.
A hotter heat source means foods can get crispy on the outside without overcooking on the inside!
A pressure sensor adjusts the temperatures automatically for even cooking, whether delicate fish or chicken wings!
An air fryer uses one-third of oil compared to conventional deep frying.
An air fryer doesn't actually fry food, rather it bakes or roasts food in super-hot air temperatures. This allows and let the food to cook much faster than using traditional methods like baking or roasting, which often requires a long time and more fat for optimal results . This is one reason why food cooked in an air fryer doesn't taste burnt.
This book covers
? Breakfast recipes
? Vegetables and sides
? Meat recipes
? Fish and seafood recipes
? Snacks and dessert
And a lot more!
Air fryers are ideal for making a whole host of tasty dishes. Because the air-frying technology is brand new, we're really just starting to figure out all of the potential uses. Some people use air fryers to make deep fried chicken, but you can also make many different types of foods including French fries, paleo bread, banana chips, and even oatmeal pancakes! And yes - you can even make ice cream!