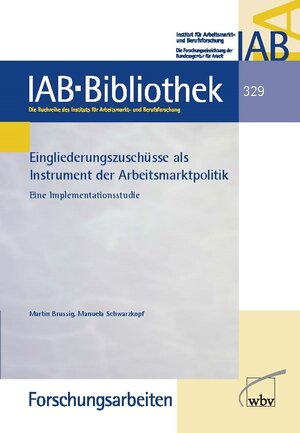 ×
Eingliederungszuschüsse als Instrument der Arbeitsmarktpolitik
Eine Implementationsstudie
von
Martin Brussig
und
Manuela Schwarzkopf
Integration subsidies are amongst the most important tools of the active labour market policy. Employers may obtain these employment subsidies for a limited period of time if they employ job seekers with placement barriers.
For this study numerous interviews with placement specialists, job seekers and human resource managers in companies were carried out. They provided extensive and new insights into the use and the efficiency of this instrument: How are the legal regulations realised on site? How do companies use the subsidies? How do the unemployed view the subsidy? Does gender mainstreaming play a role regarding the dealing with integration subsidies? Have the subsidies ranges existing since 2007 proven successful in practice? How can this instrument be improved?
The study provides the experts of science and practice, who deal with the reform of labour market policy instruments, with founded answers to these and other questions.