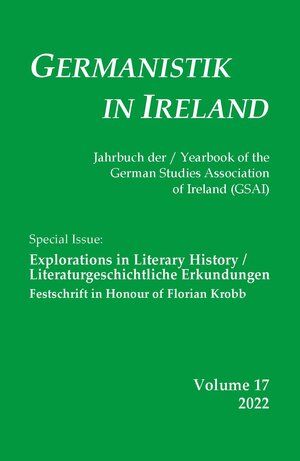 ×
In this volume of Germanistik in Ireland, friends and colleagues of Florian Krobb have come together, on the occasion of his recent retirement as Professor of German from Maynooth University, to mark his most distinguished career in German
Studies and to honour a man, whose wide scholarship and unwavering presence in German Studies in Ireland and beyond has had a substantial influence on our discipline over the last thirty years. In this Festschrift, colleagues from Ireland, the
UK, the three German-speaking countries and South Africa present Explorations in Literary History that engage in various ways with Florian's extensive range of scholarly interests.
Florian is, quite simply, a giant within Irish and international Germanistik. An extraordinarily prolific scholar, since his retirement Florian's research output is only gathering apace. He continues to serve on advisory and editorial boards, present
at and organise international conferences, keep on writing and producing highquality research. This he seems to do effortlessly, nonchalantly, almost "nebenbei", while always finding plenty of time for family commitments, hiking trips, travels
to Germany, the South of France and South Africa, and to keep up his and Sabine's long tradition of hospitality and conviviality – interrupted only temporarily by the pandemic.
His long and diverse list of publications reprinted in this volume (excluding his over hundred review articles – more on these below) is nothing short of staggering, especially when considering the wide variety of topics, starting with the Middle Ages and going right up to twenty-first-century German-speaking literature – with everything else in between: most notably, German-Jewish writing, German classicism, the Wallenstein complex, German Realism, literature of the Weimar period,
Austrian literature, literature dealing with youth and adolescence, and, of course, his special interest in the German discourse on Africa during the nineteenth and twentieth centuries. In its characteristic mix of philological and historical perspectives, of careful textual interpretations and multiperspectival contextualizations, Florian's scholarship is profound and engaging, stupendous in its breadth and depth, and highly influential.