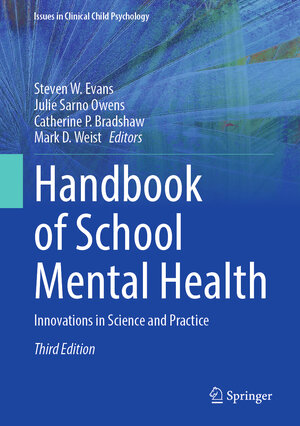 ×
The handbook provides thoughtful and provocative critiques of the science and practice of school mental health. It examines intervention science and implementation science and the study of professional development and stakeholder engagement. The volume outlines the relevant issues facing the field of school mental health and provides a framework for the areas of study. Chapters critique the science in a specific area, draw innovative connections between findings, and present new information about their area of expertise. This handbook provides a concise and critical update of the literature in school mental health and is an essential resource for those from the wide range of disciplines that constitute the science and practice of school mental health.
Key topics featured include:
Promoting meaningful engagement and leadership in school mental health by diverse stakeholders.
Training, coaching, and workforce development in school mental health.
Intervention science for children with specific needs (e. g., anxiety, depression, trauma, autism).
Innovations in scaling-up and Implementation science, focusing on such topics as multitiered systems of support and scaleup of positive behavior support strategies.
The handbook is an essential reference for researchers, graduate students, and other professionals in child and school psychology, special and general education, public health, school nursing, occupational therapy, psychiatry, social work and counseling, educational policy, and family advocacy.