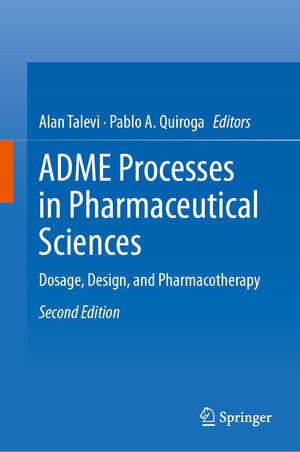 ×
ADME Processes in Pharmaceutical Science
Dosage, Design, and Pharmacotherapy
herausgegeben von
Alan Talevi
und
Pablo Quiroga
Absorption, Distribution, Metabolism and Excretion (ADME) processes and their relationship with the design of dosage forms and the success of pharmacotherapy form the basis of this upper level undergraduate/graduate textbook. Whereas primarily oriented to Pharmacy students and graduates, it can also be useful for scientist from different fields elated to pharmaceutics and pharmacology. (e. g., material scientists, material engineers, medicinal chemists, physicians) who might be working in a positions in pharmaceutical companies or whose work might benefit from basic training in the ADME concepts and related biological background.
Pedagogical features such as objectives, keywords, discussion questions, summaries and case studies are included as teaching tools. This book will provide not only general knowledge on ADME processes but also an updated insight on some hot topics such as drug transporters, multi-drug resistance related to pharmacokinetic phenomena, last generation pharmaceutical carriers (nanopharmaceuticals), in vitro and in vivo bioequivalence studies, biopharmaceuticals, pharmacogenomics, drug-drug and food-drug interactions, in silico and in vitro prediction of ADME properties, or chronopharmacokinetic. In comparison with other similar textbooks, around half of the volume would be focused on the relationship between expanding scientific fields and ADME processes. Each of these burgeoning fields has a separate chapter in the second part of the volume, and is written with experts on the correspondent topic, including industrial scientists and academics from USA and UK.
Additionally, each of the initial chapters dealing with the generalities of drug absorption, distribution, metabolism and excretion would include relevant, classic examples related to each topic with appropriate illustrations.
ADME Processes and Pharmaceutical Sciences is written as a core textbook for courses on pharmaceutical sciences: pharmacology, pharmacokinetics, drug delivery, biopharmaceutics, drug design and medicinal chemistry courses.